OXALIS-LASER
Unique and powerful software
for simulation in photonics
Oxalis-Laser software
Commod Pro
Simulate and optimize a complex optical system designed with Commod Pro. Physical optics, coherent beam propagation, laser cavity, intra and extra-cavity frequency conversion, ultra-short pulse propagation and amplification can be adressed...
"CP is a powerful tool for the optical simulation of complex multi-component systems containing passive, active and nonlinear media. CP was capable of accurately benchmarking published experiments using separate nonlinear OPO and DFM crystals in a resonant cavity. CP is currently being employed to optimize an OPO+DFM configuration for a commercial frequency conversion application."
Dr. R. Slater - RSPhotonix LLC
Oxalis-Laser software
ThermOpt
Calculate wavefront distortion and state of polarization changes due to thermal loading with ThermOpt. Incorparate the results (phase masks) in Commod Pro and simulate the alteration of the output characteristics due to thermally induced effects...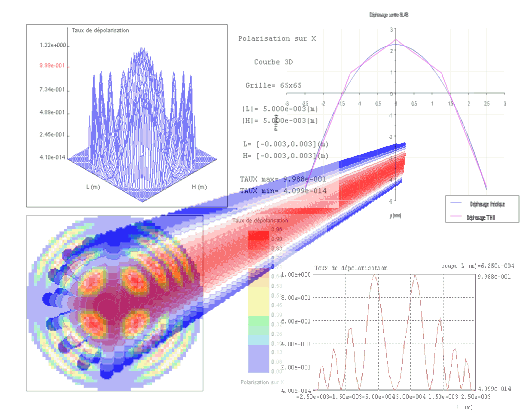 Spir
Simulation of transverse diode pumping of rod and slab amplifiers. The calculated gain profile is latter on used in Commod Pro.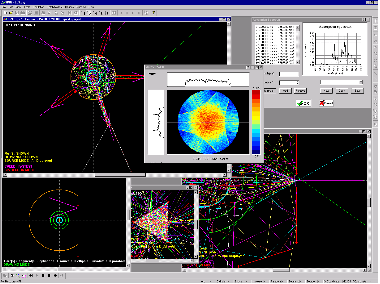 Oxalis-Laser services
Oxalis-Laser provides services based on its expertise in optical simulation and software development.
System optimization
Today, thanks to its robustness and reliability, the use of Oxalis-Laser software is a very effective way to optimize complex optical systems and to minimize development time and cost. Oxalis-Laser proposes to perform simulation of your optical systems based on specifications conjointly defined.
Software development
You need a dedicated software for the simulation of your complex optical systems and physical effects involved in, Oxalis-Laser is able to develop it for your unique usage.
Specific component
You are already using Commod Pro and you are working on specific component which is not yet part of Commod Pro component library, Oxalis-Laser can implement this component in Commod Pro in collaboration with your team.
Maintenance contract and training
Oxalis-Laser proposes maintenance contract that includes technical support, new software release, and the possibility to exchange file and technical information through our web site with a dedicated user space on it.
Oxalis-Laser is also proposing training session on its different software. The content of the training is defined according to your requirements and the training will take place in your facilities.